Marine Collagen 30 Servings
Regular price
$77.77
Sale price
$54.84
Unit price
per
Sale
Sold out
FOR HAIR, NAILS, SKIN AND JOINTS - Marine collagen helps naturally boost radiance from within by strengthening hair and nails, improving skin and strengthening joints. Marine collagen improves your overall growth and wellness

DIGESTIVE ENZYMES FOR ENHANCED ABSORPTION - Special digestive enzymes enhance the absorption of collagen peptides for maximum results. This results in better gut health, a stronger immune system and radiance from within

DEEP SEA AND WILD CAUGHT FISH - Our marine collagen is only made from the scales of fish that are caught in the deep seas. Unlike some companies that use any fish skin to make collagen

SUSTAINABLE AND ETHICALLY SOURCED - We follow sustainable and responsible fishing practices to source our marine collagen. No harm is done to the ecosystem through our methods, making it an eco-friendly choice

PURE AND UNFLAVORED - Our marine collagen peptide is completely pure and unflavored. This makes it easy to incorporate it into your daily routine without any unpleasant taste or smell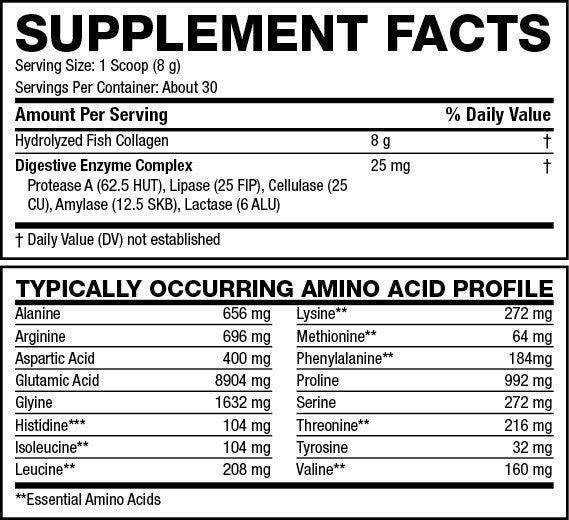 Best marine collagen
I only gave it 4 stars as the price has gone up dramatically and it is difficult to find in stock but it is my favorite one. Also, the new container does not state if it has Proteox so I assume it does not? It dissolves completely in hot liquids without clumping and has no noticeable flavor.
One of the best collagen products in the market.
The collagen in powder form dissolves quickly and is easy to use.
Marine collagen
This collagen combined with salmon cartilage provides the best, most bio available results. I've tried several different brands of collagen & this is the best by far, in my opinion
i am now a regular customer